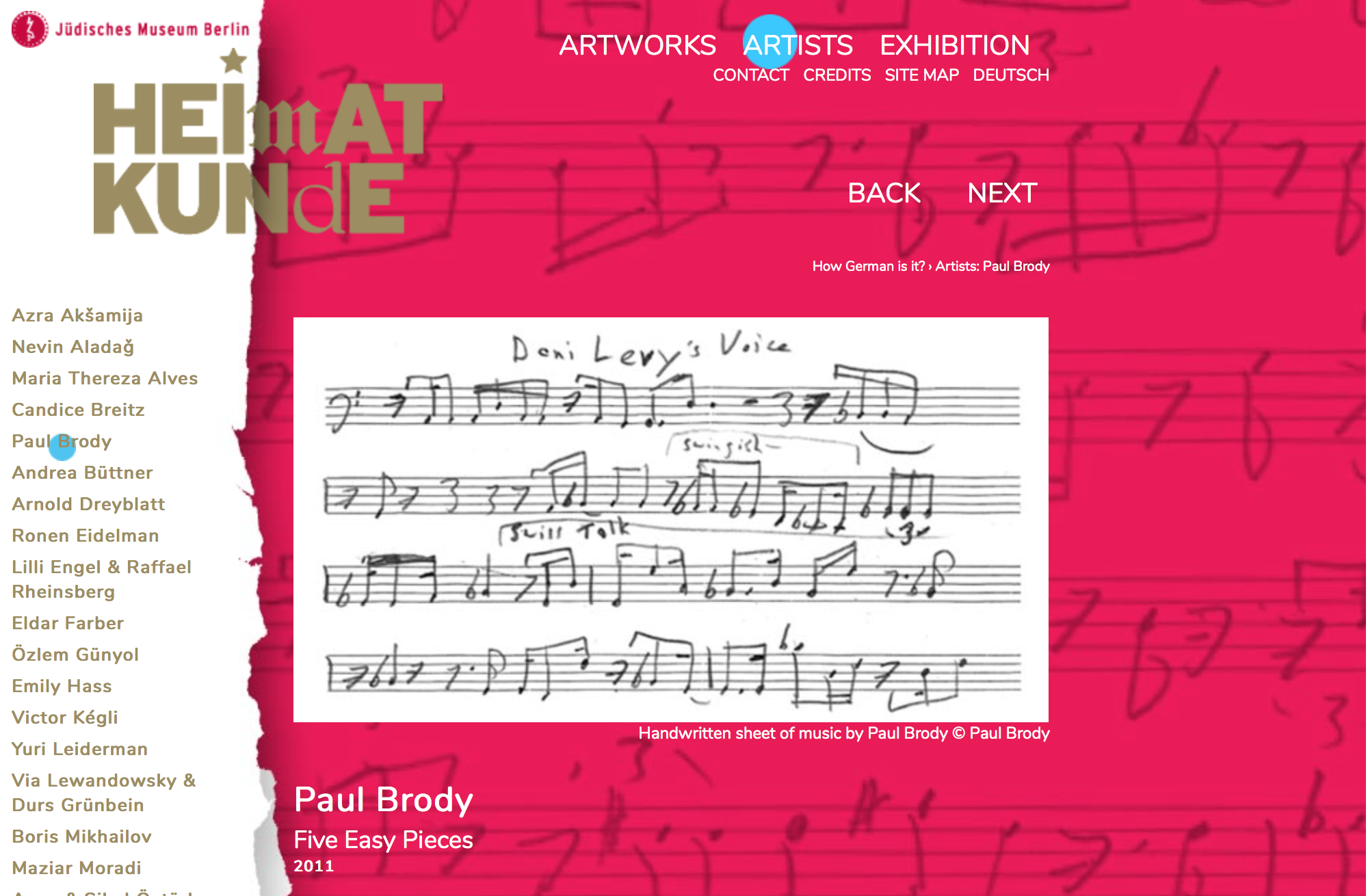 Jewish Museum Berlin Catalogue Text in English:
5 EASY PIECES (Surround sound installation)
I admit, as a musician I have a bias towards sound. But when I think about Jewish culture, it seems to me that music and storytelling long played a critical role in transporting Jewish traditions. For one thing, visual culture encounters an ambivalence in Jewish teachings. Perhaps more telling, though, is the fact that Jews could squeeze their stories and voices into the most over-stuffed suitcase or bundle. And sling a violin or trumpet across a shoulder. After a concert at the Felix-Nussbaum-Haus, I noticed a saying painted on the wall: Trees have roots, Jews have feet.
Dani Levi  (A film maker from a Swiss village settles in Berlin.)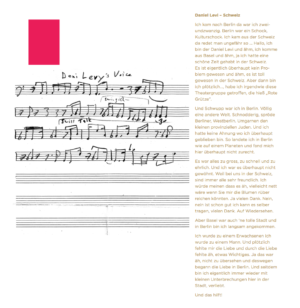 Ann and Helmut (A French woman and a German man fall in in love in China then settle in Berlin. 
While the Jewish Museum Berlin has typically showcased objects, the exhibit on the music of Radical Jewish Culture explored how to use aural, not visual media to delve into Jewish identity. Well before Five Easy Pieces, I'd conducted interviews during my first European tour, when I used cassette tapes to record why other US musicians had crossed the Atlantic. On recent travels I've conversed with children all over the world for radio shows about music and young people. For this installation, however, Iwanted to take the five oral histories as inspiration for musical compositions.
In Five Easy Pieces, I started with one-minute stories from five people living in Germany. I included myself. The time limit forced the speakers to recount only a few moments from the sweep of their lives as they considered how they saw themselves in Germany. We had all established "homes" in Germany, yet each voice refracted traces of different places visited or inhabited, age and gender, even the echo of a grandparent's endearment or scolding. To me, the music of speaking, its staccato stutters and chaotic chortles, was as vibrant as the information conveyed.
Katharina Oguntoye (Afro-German identity and the name.)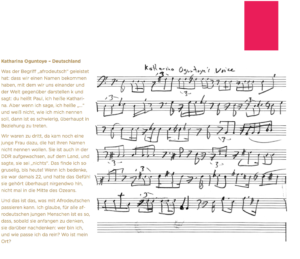 I use music to throw images intothe world, but it feels awkward to tell people what makes my work meaningful. Certainly my music is filtered through ideas or values I hold close; in our human response to life, I believe that we are intuitive – stronger emotionally than rationally. The spontaneous voice, even a spoken fragment, reveals to me the depths of an individual, a real-time sound history framed in feelings, whether acknowledged or suppressed. The stories we tell about ourselves are accompanied by the melody of who we are.
Mini Kapur (Traditional Indian textiles and materials and German design.)
After I listened to the stories, I transcribed the melody of each voice note for note, and assigned an instrument to compliment its timbre. In Five Easy Pieces, the instrument first plays in unison with the voice, then moves on – like someone leaving home. The voice is stripped of its words, but the story remains in the essence of the sound.
Creating a piece of music through storytelling was a precious experiment. Now often relegated to a children's activity, storytelling had been a vibrant part of Jewish culture up until the near destruction of European Jewry. In the postwar years, things like watching television displaced active storytelling – we've lost the storyteller reinventing the story for the moment and audience. I wanted to celebrate the music of the voice, to interweave the stories into collective musical portraits of experience and feeling.
For the Heimatkunde exhibition, the music of the voice belies the usual visual cues of identity. Assumptions about belonging and exclusion are often based on physical appearance, especially in this part of the world. In this piece, I wanted to probe our usual patterns of decision-making. After listening to Katharina, for example, her voice a mixture of Zwickau and Berlin, we discover that as an instrument she is bass clarinet. As we move through Five Easy Pieces, we see that Katharina is African-German.
When I walk into a Berlin cafe, I can pass as German. Once I order my coffee, I may need to explain that I grew up outside of San Francisco, studied in Boston, never learned proper German. Back in California, my family teases me about the odd inflections warping my English. Sometimes I forget a word. Our "homeland" we carry in our voices.
Paul Brody (Yikes!  heritage of a European Jew.)