Webern from the Inside and Outside Composition/sound installation
Here's the link!
https://boulezsaal.de/webern-installation-paul-brody
Additional composition and performance event in 2018 – 2020
Munich Kammerspiele remake of Bellini's opera, La Sonnambula directed by David Marton. (Composer and performer)
The Munich Kammerspiele premier of On the Road directed by David Marton began the 2017 fall theater season.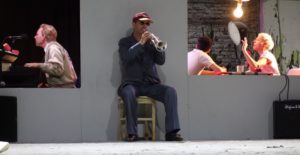 The David Marton Ensemble, a creative collective of actors and musicians, presented a Marcel Duchamp influenced version of La Sonnambula. This year, On the Road explores 1940's landscape of the American psychie. "Where are you going, America?" is a question we're still asking!
In the Marton ensemble the actors make music and the musicians act from New York to Mexico.
Here's a TAZ review in German.