University of Rhode Island & University of Virginia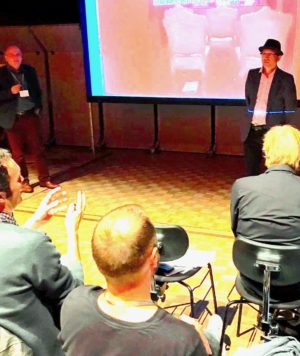 University of Rhode Island Guest Artist. Brody will present perspectives on building an acoustic narrative through his radio and sound installation work.  April 11-13th. Hosted by Mary Cappello of the Department of English with support from the Harrington School of Media and Communication Studies, and the URI Film/Media Program.
University of  Virginia Artist in Residence. Brody will present his work as a composer and sound installation work artist. In addition, Brody will give an instrumental improvisation workshop based on jazz and klezmer. April 14th-19th. Hosted by the  East European, Eurasian, drama, anthropology, and music departments.
Along with talking about the theater and radio projects with Brody. The music students will learn selected pieces from the Paul Brody's Sadawi Tzadik Records repertoire.
Along with this time in Virginia,  Brody will tour with Alan Bern's Semer Ensemble in North America, and Canada. The group of soloists features four singers, including Daniel Kahn and Klezmatics singer, Lorin Sklamberg.
http://www.semerensemble.com
Piranha Records brought out the CD, Rescued Treasure, in which the pre-war cosmopolitan music of Berlin is brought back to life.
The Guardian writes:
The Semer label, run by a brave Lithuanian bookstore owner called Hirsch Lewin, specialised in recording the remarkable Jewish music scene that existed in Berlin in the 1930s, even after the Nazis came to power – until his shop was smashed, thousands of albums were destroyed, and he was arrested. A successful search for surviving recordings led to the formation of this celebrity band from the US, Germany and eastern Europe, who have revived the music, with new arrangements from pianist Alan Bern and production work from Ben Mandelson. The often dramatic, emotional songs range from klezmer to cabaret and prayer music, and include the pained and thoughtful The World Has Become Small. Originally performed by an actress and cabaret artist who was murdered in Auschwitz, it has echoes of Kurt Weill and is still sadly relevant. An intriguing set – but you need to search online to find the lyrics and history of the songs.